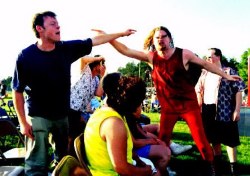 Editors note: The following interview with Red Lightning was conducted by
Tim Larson via e-mail and completed February 21, 2000.


Red Lightning

19 Questions

February 21, 2000

1. How and when did you get into the wrestling business?
I got into professional wrestling in January of 1998 in Minneapolis. I
started with Ken Patera and Billy Blaze. There were 5 of us that started at
the same time. Myself, Mad Wolverine, The Annihilator Tom Novak, The Farmer,
and a guy named Mike Amick. A few months later Shifty, the Sheriff, and Mike
"the bull" Gueke started. I debuted April 4th.


2. Describe Red Lightning the wrestler to us.
An energetic babyface, but much more over as a heel. I have an extremely
crazy, hideous, annoying laugh that isn't a gimmick. It's real. It was
actually Travis Lee that told me I should use that in my character. (See
Travis, I told you I'd give you credit!)


3. What are your strengths as a wrestler?
I'm easy to work with. I can work big guys, small guys, anybody. I think
another strength is that I'm willing to learn. I know I don't know it all,
and really want to learn as much as I can.


4. Other than professional wrestling, what are your other top athletic
accomplishments?
I went to a private high school. I made all state 3 times in basketball, and
once in soccer. I was the first guy from my high school to be recruited by
colleges for basketball. I played one year of college basketball then
started wrestling.


5. Who is your favorite all time wrestler?
Ric Flair! I still mark out for his matches.


6. What is the best match you've ever had so far in wrestling?
I've had two really good matches with Killer Claw, I had a really good match
with Travis Lee at Country Jam, and I always worked well with Leland Cross. I
don't know that I could pick out one as the best.


7. What is the first card you ever saw live?
My parents never really wanted my brother and I to watch wrestling growing up
because we would try all the moves on each other so they never took us to any
cards. The first one I saw was in 96' in Menomonee. It was Ken Patera's
promotion. Wayne Bloom and Jim Brunzell were there.


8. What is the best match you ever saw live?
Probably the Adam Pearce and Hellraiser Gutts match at the last SPCW show.
That was great.


9. Quick comments ...

a) Jim Gagnon: Really good marketer. Knows how to put butts in the seats. I
wish him luck.

b) Angel Armoni: Excellent heel. Gets tons of heat. I learned a lot from
him.

c) Sabot: Good babyface. Has a lot of charisma. Needs to find his own
gimmick.

d) T-Bone Roads: Really loves the biz. Always ready to learn. Once he
decides on a character he could be something.

e) Travis Lee: Good friend of mine. Great build. Wears too much pink
though. I work well with him.

f) Sheriff Johnny Emerald: Great guy. I hope to work for him more. Really
knows the business.

g) Shifty: Great worker! I like to watch him. I'd like to work with him
someday.

h) WCW: Needs a facelift.

i) WWF: The leader in sports entertainment!

j) ECW: Could be number 2 sooner than later

k) Chris Benoit: Awesome worker! Would love to learn from him!

l) The Hardy Boys: Unbelievable! I wish I could do half the stuff they do.

m) The Rock: He has the crowd in the palm of his hand. Charisma, charisma,
charisma!

n) Shootfighting: What's the point? I'm not a big fan.

o) Mick Foley: Incredible bump machine. Unbelievable pain tolerance.

p) Jerry Lynn: Would have loved to seen him live when he worked the Minnesota
indies. I still remember his matches with Lightning Kid in Global! One of
the best.

q) Ric Flair: My favorite! I'm such a mark for him. Can still work a great
match at 50! Great interviews as a face or heel.

r) Edge: Great talent. Would love to work with him someday!

s) Sean Waltman: One of my favorites. Great worker. Am looking forward
to seeing him work with Benoit, Jericho, Malenko, and Guererro.

t) Jushin Liger: I remember watching his matches with Brian Pillman and
thinking "wow, I'd love to be able to do that!"

u) Matt Burns: Haven't seen him in over a year. Heard he's improved. We
worked a 25 min. time limit draw match in Stillwater. It was my third match
and his second. That was not easy. Would like to work with him again someday.

v) Master Quinn: Great knowledge of the business. Awesome mic skills.

w) Tommy Roxx: Great guy. Great heel manager. Gets good heat.

x) Scotty Zappa: One of the best in the area. Would love to work with him
someday.

y) Eric Hammers: Knows the psychology of the sport in and out. I've learned
a lot from him.


10. What has been the highlight of your career so far?
I would have to say being voted most improved wrestler of the year by this
newsletter would have to be the highlight so far. It's nice to be recognized
for something you work really hard at. Thanks!


11. What has been the lowlight of your career so far?
I don't know if there's really been any low points. I guess sometimes the
politics of the biz are a little depressing at times, but other than that
everything has been great!


12. Who would you really like to wrestle in the Upper Midwest and nationally?
In the Upper Midwest I would really like to wrestle Scotty Zappa, Adam
Pearce, Dino Bambino, Hellraiser Gutts, Dominion, Steel, anybody that I could
learn from. Nationally, I would love to wrestle Flair (of course), Benoit,
Jericho, Xpac, Lenny Lane, Jerry Lynn, any of them really!


13. Who are the top up-and-comers in the upper midwest?
There's a lot of great workers! I would say Zappa, Pearce, Bambino, Gutts,
Danny Dominion, Ace Steel, Travis Lee, Shifty, Mike Mercury, Leland Cross,
the list goes on.


14. What is the one move that you haven't mastered that you would like to
add to your matches?
I would like to add a lot more top-rope moves. A lot more high risk stuff.


15. What is your goal in the wrestling business?
I just want to be the best I can be. I would really love to do this full
time.


16. What do you need to work on the most?
I don't know if there is one thing in particular? I know I need to improve
on everything.


17. How much time a week do you spend on wrestling-related business?
It varies from week to week. It's pretty much like a part time job right
now. I'd like it to be full time someday.


18. Who has been your biggest influence in the business?
I guess it would have to be my friends in the business. I couldn't say just
one person.


19. What is your goal in wrestling for 2000?
To improve as much or more than I did in 1999. To have a full schedule of
bookings.